Christmas Prog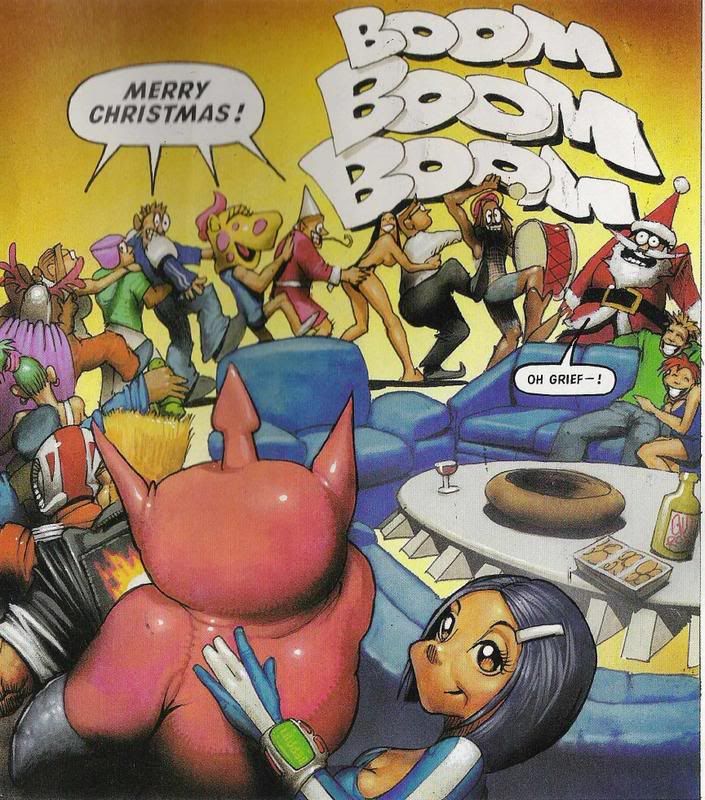 Nowadays we squaxx get to enjoy the bumper 100 page special progs nbamed after the year to come. But there was a time when we had a plain old Christmas-themed (or sometimes not so themed) prog to enjoy. Let's turn back the clock to the last of these efforts, Prog 1124, dated 16th-29th December 1998.
Already you'll notice that the Prog was on sale for two weeks, just as Progs 200x are. Also, this one was a 48-pager, which is nice I guess. Somehow it only featured 4 strips, though. On the plus side (for me, at least), all of these four strips had a holiday theme. An oddly, all were self-contained episodes except Dredd, which is the second-half of a two-parter.
Judge Dredd: Christmas Angel, by John Wagner and Jim Murray.
Yes, it's a Wagner, meaning you needn't have read Part 1 to enjoy Part 2. Oola Bint is back doing her thing on Christmas Day. Judge Berk screws things up and she goes free. The end. Perfect art from Murray that layers on the humour thick and fast. And Wagner allows for two moving scenes of Christmas cheer - 2000 AD style...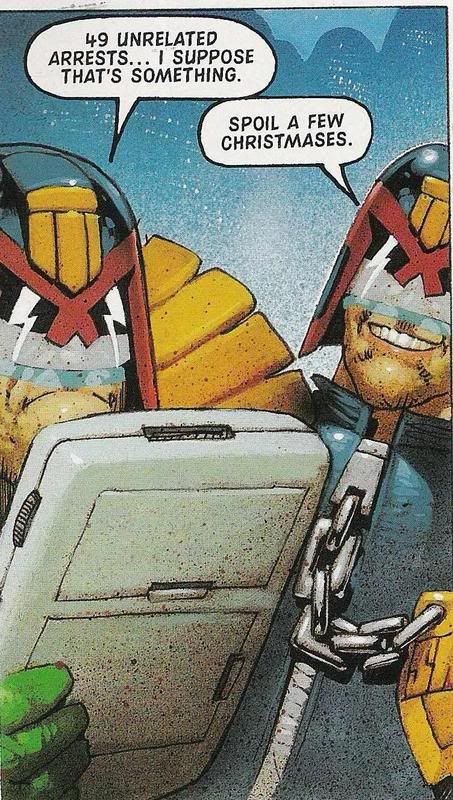 Verdict: Splundig vur Ho-ho-ho
Missionary Man by Gordon Rennie and Henry Flint
A tale of revenge, featuring such Chritmassy panels such as: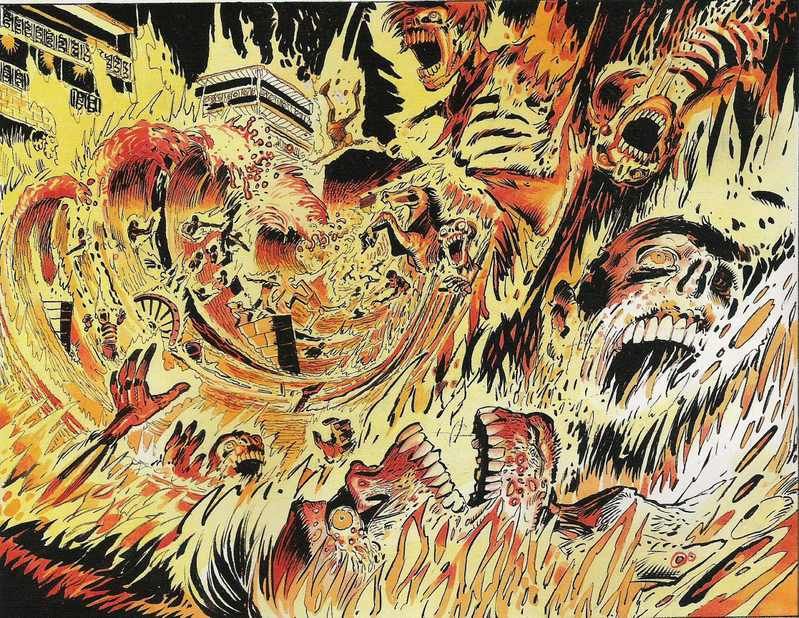 In which the citizens of an entire town get to burn in hellfire. Missionary Man was not a universally beloved series, but I liked it (especially in the re-reading of it all). This episode will please most squaxx if for no other reason than Henry Flint is drawing it, and everyone loves Flint, right? Continuity buffs will also enjoy seeing Preacher Cain back in Texas City tying up some loose ends from his past, and generally meeting out seasonal death. OK, so there's not a huge Christmas theme to this episode beyond the mention of anniversaries, but it's a powerful piece.
Verdict: Christmas is really about Jesus, sinners! Repent under a hail of lead forgiveness!
Sinister Dexter by Dan Abnett and Steve Yeowell
Again, SinDex are not universally loved, but I say only fools claim not to enjoy it. Honestly, have you ever read a truly bad episode starring the hitmen? Sure, until last year's high drama the strip has never scaled the heights of 'best series ever', but it's been consistently fun, more often than not actually funny, and always earns it's place in the roster of any Prog it's in.
Having just made that claim, I have to admit, that this isn't a classic SinDex outing. But we get plenty of Christmas bickering, and a classic scene in which the duo persuade a couple of warring gangs to lay aside their differences and recall the spirit of the trenches in 1914 and play a bit of football. 'Kalashnikovs for goalposts' joke - check. 'Football turns out to be a bomb' joke - check. And by this time the strip had enough side characters that we could find a small amount of humour in the goings on of Demi Octavo and Officers Rhodes and Weld:
Verdict: ho-ho-hum
Before checking in on our final Xmas tale, let's not forget the fun of the preview pages! Nowadays internets and forums can give a fan an all-too-detailed glimpse of publications to come. But back in the day we had to wait until Tharg was ready to reveal his business. In Christmas 1998, Tharg was most excited about...
Sinister Dexter! Yay! He was touting Eurocrash, billed as the first epic for the pair. And it turned out pretty good, I think we'd all agree (even if many would have preferred it to be a final epic...
The Balls Brothers! How could it be bad? John Wagner and Kevin Walker could do no wrong. In this case, it was Wagner who did the wrong, as Walker's new art was awesome and funny. Wagner's script was not funny. No, it really wasn't. Shame.
Mazeworld book III: the Hellmaze! Yay - more Arthur Ranson art! The story wasn't quite the unmitigated scrotnigness that I'd hoped for, but I remember this series fondly, if hazily.
Devlin Waugh! Much as it felt sad to have Waugh in 2000 AD rather than the Megazine, I was very glad to have a proper epic again. The Herod serial lasted for half a year - that's proper, that is. Also, the tone of the series was much more suited to 2000 AD than it would have been in the Meg anyway.
Mercy Heights 2! Sci-Fi hospital dramas work. 2000 AD has tried them out twice, to some success but little longevity, which saddens me. Actually, Mercy Heights 2 was more of a murder mystery than a hospital drama as I recall (or was that part 1?), which was a shame. And at least it helped create the Tor Cyan one-offs, which are amongst the best Rogue Trooper stories ever, not least owing to some excellent Kev Walker and Jock art. Just check out the cover for this very Prog (over on the 2000AD main site, if you please).
And with that, let's explore the Mercy Heights christmas story - by John Tomlinson (he was great, wasn't he?) and Neil Googe.
Well now, we have lots of snow. We have some banter between Kintry and Ferro. We have a weird alien peacekeeping beastie trapped on an ice planet. Basically, it has all the ingredients of a simple but respectable 2000 AD tale. Shame it ends on such a weak bit of innuendo, but hey ho. At least we get some exploding heads to keep us going through the long winter nights.
Verdict: No one should be in a hospital over Christmas...