Random Christmas Prog Review: Prog 815
Jingle Borags, Earthlets! It's the time of year when squaxx like to see Dredd in a Santa hat:
The Christmas comic is an essential part of UK culture. Well, when it comes to weekly anthology comics, anyway. Certainly in terms of the Beano with its annual snow-encrusted logo. Tharg doesn't quite go the whole way, but more often than not there's at least one christmas-related tale each year. Dredd is the staple for this treatment, but really any strip enjoying a one-off episode has no excuse not to be a little bit seasonal. Nikolai Dante and Caballistics, Inc have been good at this in the recent past, but back in 1992 it was up to Judge Dredd to carry the can, with a little help from Brigand Doom, in his best tale.
Let's curl up by the fire, and have a look at the contents, shall we?
Judge Dredd: Christmas with attitude
by Garth Ennis and Carlos Ezquerra
A genre-blending spoof of the classic scrooge story coupled with imagery from Scottish family comic the Broons*. With Ennis Dredd ultraviolence and nastiness thrown in. Sure, as Dredd goes this is Dredd-lite, but it's absolutely perfect for the Xmas prog. Ennis often says he wasn't that good at writing Dredd, but having re-read a few of his more recent efforts, I'd say he was spot on with the dark comedy angle. Ezquerra, of course, is awesome at this kind of broad comedy.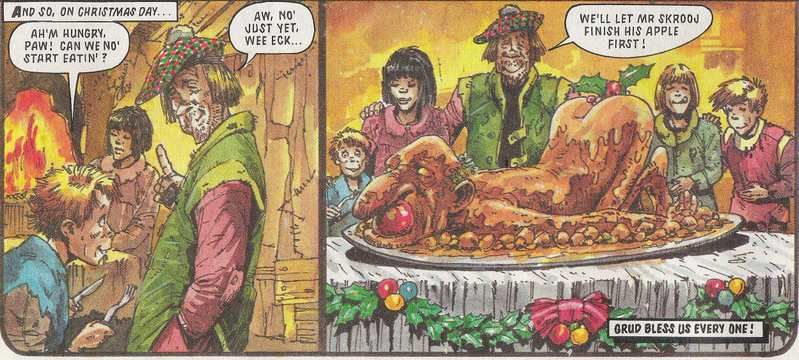 Verdict: good tidings!
Dead Meat
by Michael Cook and Simon Jacob
No Christmas for Inspector Raam, just really cheap jokes and some great drawing from the much-missed Simon Jacob. Really, this story is poor. I'll have to savage it at some point when I've got facts from the first series. But when your highlight is a Lethal Weapon 2 reference (and yes, there is only one such thing), it's not looking good for your future commissioning...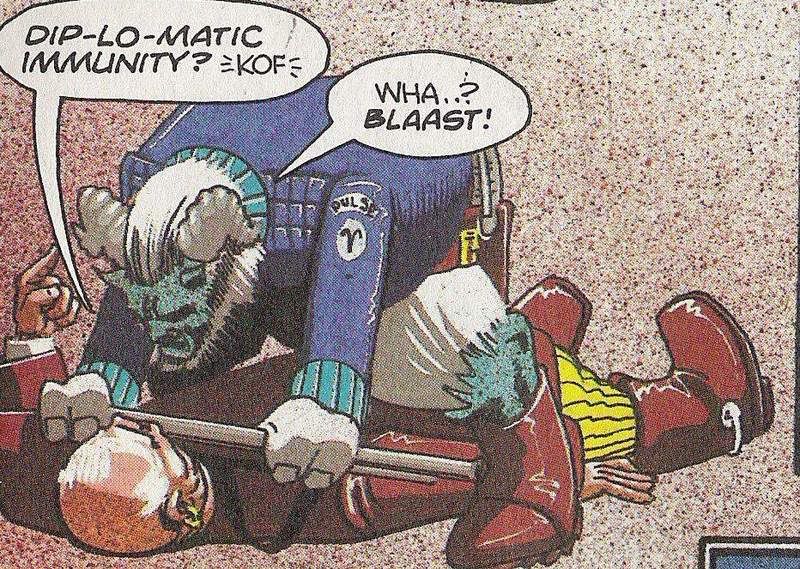 Verdict: forget turkey, eat Lamb for Christmas, I beg you.
Finn
written by Pat Mills and Tony Skinner, drawn by Jim Elston and Kevin Wicks
In which Finn kills a God, becomes a God, explains where mankind went wrong all those years ago (mainly by subjugating women), and generally feels good about himself. I suppose you could argue it's a nativity story of sorts, which is therefore well christmassy. Here's his message of festive cheer for the readers: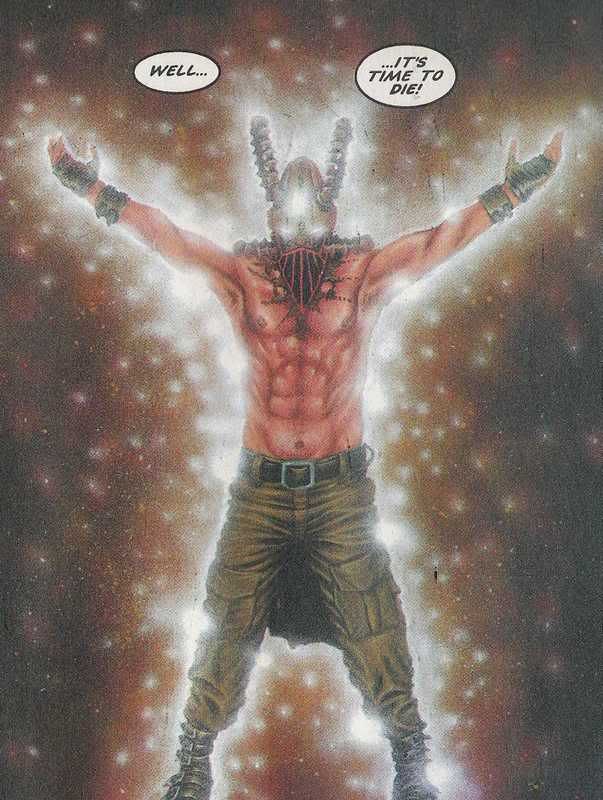 Verdict: Absolutely, genuinely, mind-blowingly cool. Why I didn't really appreciate this strip at the time is beyond me. The art is pretty sweet, too.
Brigand Doom: Spirits willing
by Alan McKenzie and Dave D'Antiquis
I have no idea if people generally liked Brigand Doom. I thought he was a great creation, served by a handful of good stories, a couple of not so good ones, and a mixture of excellent stylistic choices coupled with some pretty silly ones. Anyway, this story is I think the best of his shortish run, and the whole ting captures the premise expertly. Doom is a future urban Robin Hood, robbing from the rich to feed the poor - in this case, literally. The city he lives in is a sterile ultra-controlled place, where the haves don't acknowledge the existence of the have-nots, which annoys Doom quite a bit, in straight 2000AD tradition. In this seasonal outing, Doom robs a catering truck and serves its Christmas meal to a horde of have-nots.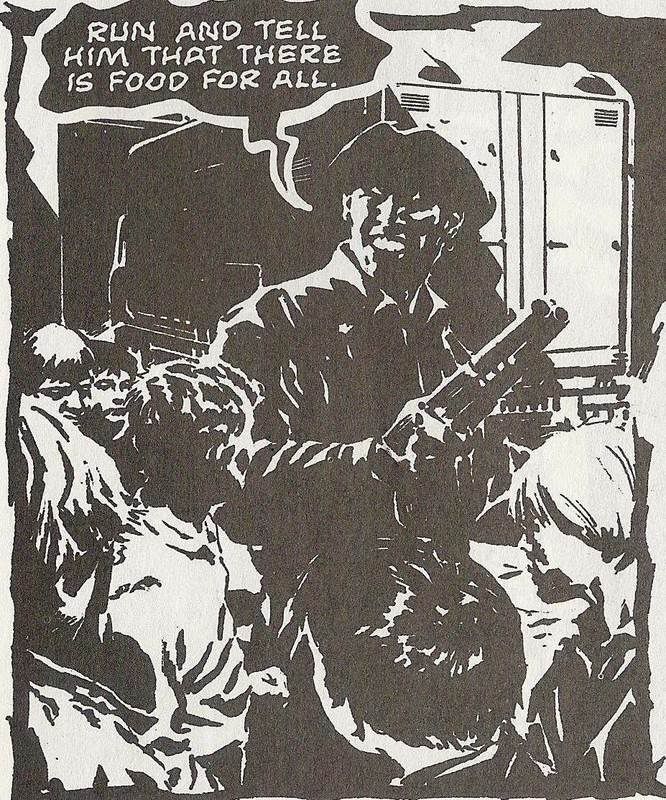 And in a twist of poetic justice, he forces the guests at the party where the food was intended for to eat the food that the have-nots would have eaten. Simple, effective, and D'Antiquis makes the whole thing delightfully chilling.
Verdict: A classic slice of retributive Christmas
R
obohunter: Ace of Slades
by Mark Millar and Anthony Williams
Yes, by Mark Millar. Ironically, this story is an absolute screamer of an archetype of everything most squaxx hated about Millar, but also turns out to be quite good. I'll explain more another time. This episode focusses on evil Sssa'am S'laydde, the indestructible killing machine who kills a lot of people without being destroyed in this episode:
Not exactly sophisticated, but it works for me because in this case it's the entire point of the story. Anthony Williams is clearly also having fun, and he draws a great set of Slades.
Verdict: read it again, creeps. But obviously it's not a patch on TB Grover's Robohunter.
And there you have it. Two tales of Christmas joy, and one tenuous nativity (and hey, if you don't believe that Finn was christmassy, you can at least laugh at the back cover poster, in which they show a stock Finn pose with the legend 'peace and goodwill on earth' - proving that it doesn't take much to put a festive spin on things. Also of note - every strip in this Prog is intentionally funny.
*amongst other regular features, the Broons and indeed many British comics would end their Christmas special around a groaning dinner table to enjoy a slap-up feed. Not usually of human flesh, mind