The Wagner and Grant show
For a brief few weeks, it so happened that the entire line-up in 2000 AD was written by just one person. Well, two people who worked together on everything and shared payment based on who typed up the final script. Yes, it's John Wagner and Alan Grant, hiding behind a host of pseudonyms, from TB Grover on Dredd, to R. Clark on Anderson Psi Division. The Progs in question were 469-472 and then 475-479, the odd short future shock aside.
It's a commonly held view that these two stalwarts are the best writers to ever work on the comic, so was this period back in 1986 the best ever? Let's take a look...
First up is Judge Anderson in 'the Possessed' - my favourite of her outings. This sequence shows classic Wagner/Grant 70s movie hardness as she silently removes and arrow from her shoulder. Hard as nails, with the Ewins drawn haircut to match. And along the way, there's some fighting, some balck humour, and some idiot citizens dressed up in robes. A solid outing.
Think Anderson is tough? Well that's nothing on the bruds who populate Bad City: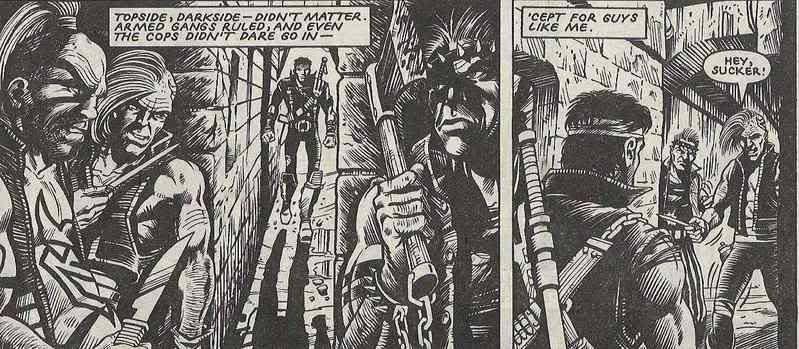 Stocky dialogue, stocky art, stocky story. I don;t really know what that means, but frankly this strip was trying to hard to be hard, and ends up a bit empty for my taste. Again, we get characters who fight, cuss hard
sucker
, and occasionally give us a laugh in the form of violence. More 70s-ness from Wagner, Grant and Robin Smith, an art droid who I find all too perfunctory. The man can draw, but he doesn't bring out the sheer bravado of an Ezquerra, or the exciting flourishes of Belardinelli or Gibson.
Look, here's Dredd breaking up a stoning in his own inimitable style. Jesus was never this entertaining. The Dredds of this time were mostly one and two parters, with art chores mastered by the likes of Cam Kennedy, Ian Gibson, and John Higgins. Most of the stories were about citizens, perps and general MC1 craziness, and less about Dredd and the Judge system. Which suits me fine, and allows for, you've guessed it, piles and piles of black humour, with a bit of hardness thrown in.
Ostensible humour strip Ace Trucking Co is actually funny, but really no more so than the rest of the comic; Wagner and Grant just can't help themselves. The only thing marking this one out as overt comedy is the plot, which is pure silliness. Less hardness in this strip, although GBH provides a bit of that. Rather, we get the caustic wit of Feek the Freek (who comes across as just a little bit of a racist stereotype these days...), and a bunch of chickens.
Rounding up the stories is Strontium Dog, in the middle of one of the longest runs the character had in the comic, stretching from Progs 419 to 606 with nary a pause for breath between stories. To some this might have felt interminable, but just at this precise moment the tension is riding high, as Johnny must deal with the death of partner Wulf. Wagner, Grant and Ezquerra show grief as they are wont to do, with more than a pinch of hardness:
In the ensuing stories, the focus is on Johnny's anger and general disdain for everyone he meets, but of course there are lashings of humour, and even a billion dollar kiss. Rage is one of the great stories to run in 2000 AD, but in many ways it's diluted by appearing alongside so much Wagner and Grant-ery that it's all a bit samey.
Let's be honest, these two writers know what they're doing, and they know how to write for 2000 AD. Each of these strips has a distinct voice, but maybe it's too much?
Of course, Tharg would never let just one writing team do the whole comic (would he?), so there's an antidote on the back page of each of these progs. You couldn't get less Wagner and Grant than Sooner or Later. A comic treatise on unemployment and politics - or maybe pretentious tripe - most likely both, from the minds of Milligan McCarthy and Riot. I kinda like the idea of it, although I rarely enjoy any individual episode. Lot's of cheap puns, so that's always good, I guess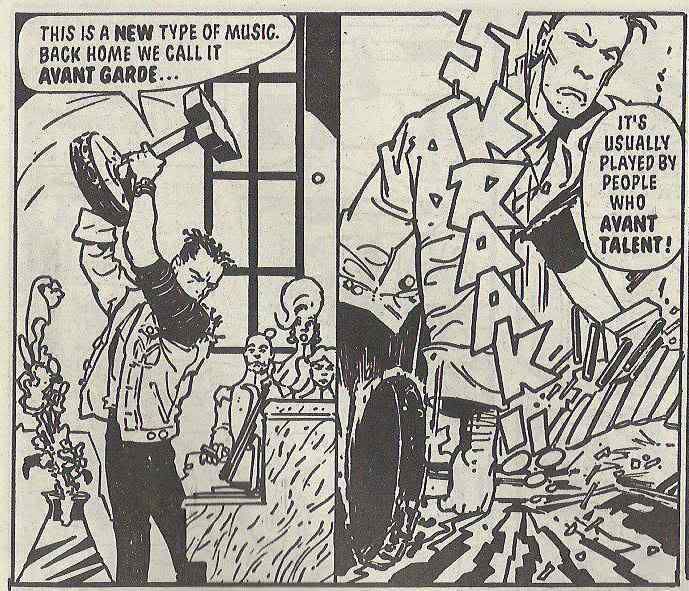 I have no major point to make. I'll leave the last word